Our landlord is a fix-it sort of man. He always gets the job done in the most functional, efficient way possible. Unfortunately, his interior design skills could use some work.
When we first moved in we had a nice fireplace in our living room.
"Don't use the fireplace," our landlord warned, "because it really loses more heat than it makes. In fact, before winter I'll buy some doors to put on it to keep the cold out."
I pictured something like this: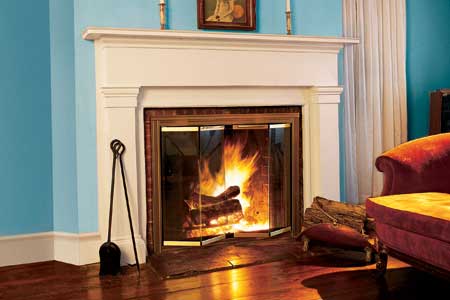 Winter rolled around and he came over. "I just didn't like any of the doors I saw--I don't think they'd really keep the heat in. So I just made something."
This is what he made:
Functional? Yes.
Beautiful? Well, that's debatable.
Recently our toilet was leaking. He looked at it and said, "Oh, it's just sweating because the temperature inside is colder than the room temperature. I just need to insulate it."
Here's his fix:
I thought INsulation was supposed to go on the INside.
Functional? Yes.
Beautiful? Well, I don't think that's even debatable.
Someday we'll own our very own house and can fix things how we want to fix them, right?